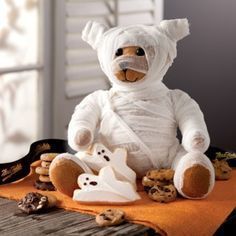 As you can see on our Event Calendar, we have a Spooky Stuffed Animal Sleepover coming up October 15 & 16! I know the question on everyone's mind is: what is a stuffed animal sleepover?
A stuffed animal sleepover is one of the most fun events I've ever done at the library, and I'm super excited to do another.
Our last stuffed animal sleepover was very simple. Children brought in one of their stuffed animals, filled out a permission slip and a name tag just like their parents would do for a field trip, and left their stuffies at the library overnight. The next morning, during the set pick-up window, they got their stuffies along with a collage of all the activities the stuffed animals got up to during the night. Some of them even checked out the books their stuffies picked out for them!
For our Spooky Stuffed Animal Sleepover, we're adding an interactive pre-party for the children! At 4:00 pm on October 15, registered kids will gather with their stuffies. We hope they come in costume, because we'd love for them to show off on our runway and tell us why they chose that character. Once everyone arrives, children will have a choice of three different costumes to make for their stuffies: a jack-o-lantern, a mummy, or a ghost. Together we'll dress our stuffed animals up in our chosen costumes before we make each stuffie a sleep mask. We know that it can be scary at night in a new place, which is why the sleep mask is especially important. Once our stuffies are dressed and have their sleep masks and our children have walked our runway, the kids will go home with a treat bag, and the stuffies will participate in super fun activities.
Don't be alarmed that you'll miss out on the fun! We'll document everything in photographs, so you can take home a Spooky Stuffed Animal Sleepover collage with you when you pick your stuffie up between 2:00 and 4:00 pm on October 16.